June 28th, 2005
Welcome to Up the Downstair! My name is Palmer and I'm a musicaholic. Ergo I will be podcasting music recorded live and in concert. I reside in Madison, Wisconsin and intend to include many performances recorded here in my hometown. I do want to warn everyone that I'm a complete dork as I love (gasp!) progressive rock. By no means will every show feature prog but don't be surprised when you find that a Genesis show has suddenly appeared on your portable music device. So consider yourselves warned. The plan is to deliver a weekly podcast with show notes posted here. At the moment, I'm still setting up the site and the podcast so stay tuned. N.B. – I do not sell any of the material heard here. The trading community is alive, well, and open to everyone on the Net. NEVER buy a bootleg recording.

What is a podcast? Head over to iPodder for the skinny but, in short, from Wikipedia: "Podcasting, is a method of publishing files to the internet, often allowing users to subscribe to a feed and receive new files automatically by subscription, usually at no cost…Podcasting is distinct from other types of audio content delivery because many people use a subscription model which uses the RSS 2.0 file format. This technique has enabled independent producers to create self-published, syndicated "radio shows", and has given broadcast radio programs a new distribution channel. Some users subscribe to podcasts using "podcatching" software (also called "aggregator" software), which periodically checks for and downloads new content. It can then sync the content to the user's portable music player."

In the meantime, I'll leave you with a picture of the subject of the first show.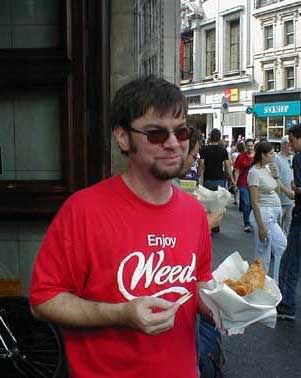 No related posts.