July 13th, 2005
Mojo magazine has a special edition out tomorrow all about progressive rock and featuring an in-depth look at Pink Floyd.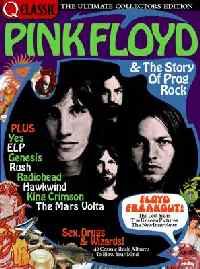 Highlights include:
~~PINK FLOYD: The Lost Years, The New Interviews, The Unseen Pictures Roger Waters, Nick Mason and friends on how they became the rock giants that made The Dark Side Of The Moon plus Floyd's secret primary schools tour and the great roadie potato-eating contest of 1972!
~~PLUS in-depth stories, exclusive interviews with the gods of '70s rock: GENESIS – YES – KING CRIMSON – RUSH – HAWKWIND – ELP and more
~~SEX, DRUGS & WIZARDS: From Wish You Were Here to OK Computer – 40 Cosmic Rock Albums To Blow Your Mind!
~~AND: Rarities, artwork, competitions and more

OK, come on! How can you not get all fired-up about The Great Roadie Potato-Eating Contest?!

Next up, Rush is going to be putting out a billion DVDs over the next year or so. R30, a show from their 30th anniversary tour last year is due this October. Then next year sees issues of their back catalog of videos: Exit Stage Left, Grace Under Pressure, and A Show of Hands. The boys are also readying themselves for a new album this fall after the World Series has finished. If you need a dose of amusement, check out an animation of Neil Peart drumming to "YYZ".

Finally, Opeth have a new album coming out on August 30th, entitled Ghost Reveries.
Related posts: