April 22nd, 2009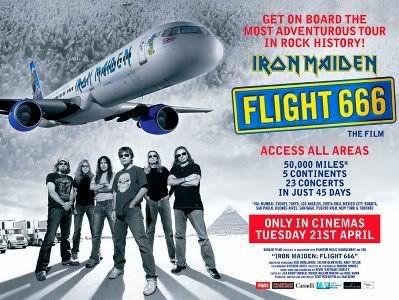 Hoping to catch Eddie and the boys on the big screen last night, I went to Point Cinemas for the solitary showing of Iron Maiden: Flight 666. The movie documents the first leg of its Somewhere Back in Time tour which celebrates the DVD release of Live After Death, their 1985 concert film. Wanting to wallow in mid-80s retro goodness, the boys brought back the Egyptian stage set that they used back in the day for the tour in support of Powerslave. (Which stopped here in Madison on 21 June 1985.) As a bonus, the movie features singer Bruce Dickinson, a licensed pilot, flying the band's Boeing 757 between tour stops.
I first got into Maiden back in 1989 after a friend lent me his tape of Seventh Son of a Seventh Son. It was my fate to become a fan as I already had Dickinson's haircut. (If I can get my scanner going, I'll post a photo of my trend-setting coif.) One night I was listening to the album as a storm raged outside. Lightning and thunder – the whole works. The first side went smoothly and then I turned the tape over for the second half which began with the epic title track. "So it shall be done," intoned Dickinson and a wash of neo-Mellotron chorus spilled out. Then BOOM!! A crash from the bathroom! I got up to investigate and found that the glass shower door had shattered into countless pieces. It was just like when the band were recording The Number of the Beast. I attributed the shower door's fate to an act of Rod.
Arriving at Point, I was promptly relieved of $12.50. I made my way to the theatre and found it to be about half full, populated by more Maiden t-shirts than I've seen since my freshman year of high school. There were older folks like myself as well as a smattering of teenagers who were still haploid cells when the band were taking "Rime of the Ancient Mariner" out on it maiden voyage.
The higher than normal admission meant no previews, which was a great relief. Unfortunately, the projectionist was unable to get the fancy digital projector out of 3D mode so everything was drenched in magenta. After 20+ minutes of blank screen and false starts, an usher announced that the showing had been cancelled. Bummer.
So I am left to wait for the DVD release.
Related posts: