August 16th, 2012
After work last Friday I met my lady, The Dulcinea, at the Essen Haus for their pre-Great Taste party featuring Chicago's Revolution Brewing who brought The Polkaholics along with them for their first gig in Madison in eight years. (I was told they'd played at the Union Terrace.) I'd never had any Revolution brew nor seen The Polkaholics live so it was a great opportunity to correct both of these highly unfortunate situations.
The beer was pretty tasty and The Polkaholics were rockin'. The only Polkaholics album I have is Wally: A Polka-Punk Opera so I was yelling for "Division Street". Bassist Jolly James Wallace heard my plea and they played it. They even took my second request – "Caldwell Woods". At this point, The D ordered me to stop yelling requests. Not a problem as they proceeded to play lots of great tunes including "Existentialist Polka", "Who Stole the Kiska", and "Old Style Polka", and "Polka On Guitar". Guitarist Dandy Don Hedeker changed "Milwaukee Waltz" (or was that "Milwaukee Polka"?) into the "Madison Waltz/Polka". One tune – I can't recall which – opened with a tease of "Smoke on the Water" while Kiss' "Rock'n'Roll All Nite" was polkafied. A little Johnny Cash even got thrown into the mix.
They were an absolute blast and all great fellows. James and Hedeker were in bands previously that had played here and James asked where O'Cayz Corral was. I pointed to the empty lot next door. (For non-local types, the place burned down in 2001.) The D and I also chatted with drummer Stylin' Steve Glover and his significant other, Rosa, who was very friendly.
The owner of the Essen Haus approached the band after the first set and the plan is to have the boys return to play there in October.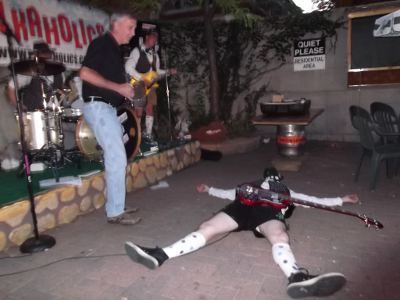 Related posts: